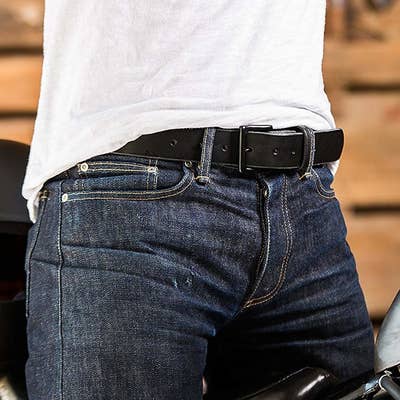 A belt made with full-grain leather, aka a thick single piece that won't break, tear, crack, fray, or split, even if you wear it every single day, year in and year out.
Seriously, these belts have a 100-year warranty because they mean it. The buckles are easily replaced, too, if you have one you like better.
Promising review: "I can't express how happy I am to have found this product. In 2017 alone I went through 5 belts! From torn belts to broken fasteners, I've seen it all. I purchased this belt in Jan 2018, and have thrown everything at it and it hasn't blinked! I'm a big guy, and recently dropped a few pounds. Where I would normally have to buy a new belt, with this one I grabbed a drill and made a few new holes that are holding up just as well as the original ones. I also pull my belt very tight to keep my pants from sagging from lack of a backside, so my belts tend to warp and start to roll a little. Not Hanks, this belt is freaking rock solid as the day I opened the package." —Steven McDowell
Get one on Amazon for $54.99 (three colors, sizes 32-60).

If you're looking for a product that's built to last, look no further than a Lodge Cast Iron Skillet
Your Lodge Cast Iron Skilletwill outlive you. With just a little bit of basic maintenance, it will literally last forever.
The Victorinox Swiss Army Climber Pocket Knife is maybe the most iconic product built for function, precision, and longevity
It's long been a classic, and for good reason. The Swiss are known for perfecting the details with form and function in mind, and this Swiss Army Pocket Knife is the gold standard.
The makers of Darn Tough Socks are so confident in their product, that the socks come with an unconditional lifetime guarantee
You may not think of socks as a product that can last forever, but Darn Tough Socks are made to do just that. Made with an ideal blend of fine Merino wool, nylon and spandex, these socks are designed in Vermont and hold up to that unforgiving climate.
Everyone should have a basic, functional tool box
This Multi-Purpose Steel Tool Box can take a beating. Its classic design and simplicity means that you won't have to go tool box shopping again any time soon.
Since shopping for a nose hair trimmer can't be fun, you should only have to do it once
There is probably no one who gets excited about a nose hair trimmer. But some things are simply necessary. The Groom Mate Trimmer will keep on trucking, leaving you to live the rest of your life without having to go nose hair trimmer shopping again.
"I've had one of those $12 Wahl beard trimmers from Walmart for 5 years now. Use (well, abuse) it almost daily. Coupled with 2 rechargeable AAs it's unstoppable."
Source: Reddit6/23
"KitchenAid mixers. My mother's KitchenAid is so reliable she actually named it in her will. Sorry, sis, I'm getting it."
Source: Reddit
7/23
"My black north face jacket. it will never die. Almost 10 years and it looks like it did the day I bought it."
Keep your clothes at their most fluffy with these handy dryer balls
Unlike some other dryer balls that get used up, Whitmor Dryer Balls are made to last. Made of non-toxic plastic, these forever reusable balls reduce waste and the need for chemical fabric softeners.
Everyone needs a reliable flashlight that is going to work and keep on working
Whether you are the outdoors type or not, a durable flashlight is a must-have tool for anyone. This LED Mini Tactical Flashlight is a go anywhere, all weather, all terrain light that can also just sit in your drawer at home and work when you need it.